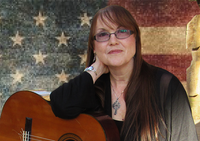 What is next?
New Album in Production: "A Voice for Freedom," is now complete & being prepared for release featuring songs that speak about Freedom of Life (which we enjoy due to the sacrifices of those who serve in harm's way) and Freedom of Soul (which we experience as a result of our personal connection to the Spirit of God). With amazing orchestrations & driving rock-anthem rhythms, long-time friend & producer, Tracy Collins has done another amazing job as Executive Producer & Arranger for these tracks. Read more about Tracy Collins Music.
New Book Release: Also near completion is my first book, "Becoming the Church, A Guided Study Experience," ideal for individuals or groups who are interested in learning to walk in Mercy while holding to Grace everywhere we go and with everyone we meet. The content covers all the basics of spiritual life as well as explores the challenges we face today and how we might support one another throughout the transformation process. The content of this book reaches beyond denominations and inspires Unity via our mutual connection to the Spirit. Several chapters of this book are already available online at my Study Library for groups or individuals. Read more.
Touring: The year, 2018 was busy indeed, with trips across many state lines bringing the POW/MIA/KIA ceremony to others as well as music and other words of encouragement. Events have included Native American PowWows, "The Ride Home" conference in Georgia honoring living Pows & the families of our Missing. There have also been many other special events which ministered to families who are experiencing other challenges such as illness, depression, injury, or addiction. To see my schedule, keep scrolling or Read more here.
Broadcasts: I am getting more & more reports of stations who are playing my tunes. Read more about streaming partners. I have also created a page to feature a selection of Internet Radio Hosts who are keeping my songs on their rotations, something greatly appreciated. 
Thank you again for your visit & be sure to sign up for the Newsletter so you can be the first to learn of any and all news.
Sincerely, 
Ann
---
Visit Music Store to preview tunes.